INDOOR SHOW Ö CREATION ON FEBRUARY çò, çùùò AT NA LOBA THEATRE, PENNAUTIER
An umlaut is two points: to go from one point to another, from one country to another, by desire or necessity.
"Ï" is what we lose and what we gain by crossing a border: following the 'retirada' of the Spanish republicans, an acrobatic and clowness path, between memories and memory, fantasies and reality.
Ï stops time, because it has memories that are not really his. There was a border, he crossed it, him or his grandfather, he does not remember well… But he does know he is Spanish. Wait, no, Catalan, and French, too.
He wanders through the memories of these disappeared fences, just to understand why he has three languages ​​in his head. He keeps looking for his words.
Like sitting on a border without knowing how to get up. The time of the fall.
The spectacular falls of the clown.
A magical journey started with humour and delicacy. With his feet in the past and his head in the present, he will tell us the survival story of a man who constantly reinvents himself throughout his journey.
Midi Libre – 15/04/07
Las acrobacias no fueron físicas, sino emocionales. Y casi nadie salió ileso.
El periodico, 14/05/07 - Gemma Tramullas
Among the materials used in the staging, the fan and the projected image give the story an unexpected coherence. An excellent performance placing movement, falling and emotion in the foreground.
Rue du théâtre – Christelle Zamora (Montpellier) March, 29, 2007
Buster a l'exili.
Un munt de recursos, magníficament combinats, serveixen per explicar la història : la il.luminació, l'ambient sonor, la música creada in situ pel mateix pallasso gràcies a l'ús intel.ligent de la tecnologia o les projeccions sobre pantalles aprentment improvisades, tot plegat executat amb la precisió dels virtuosos.
Crítica teatre, Girona, November 2011 – Dani Chicano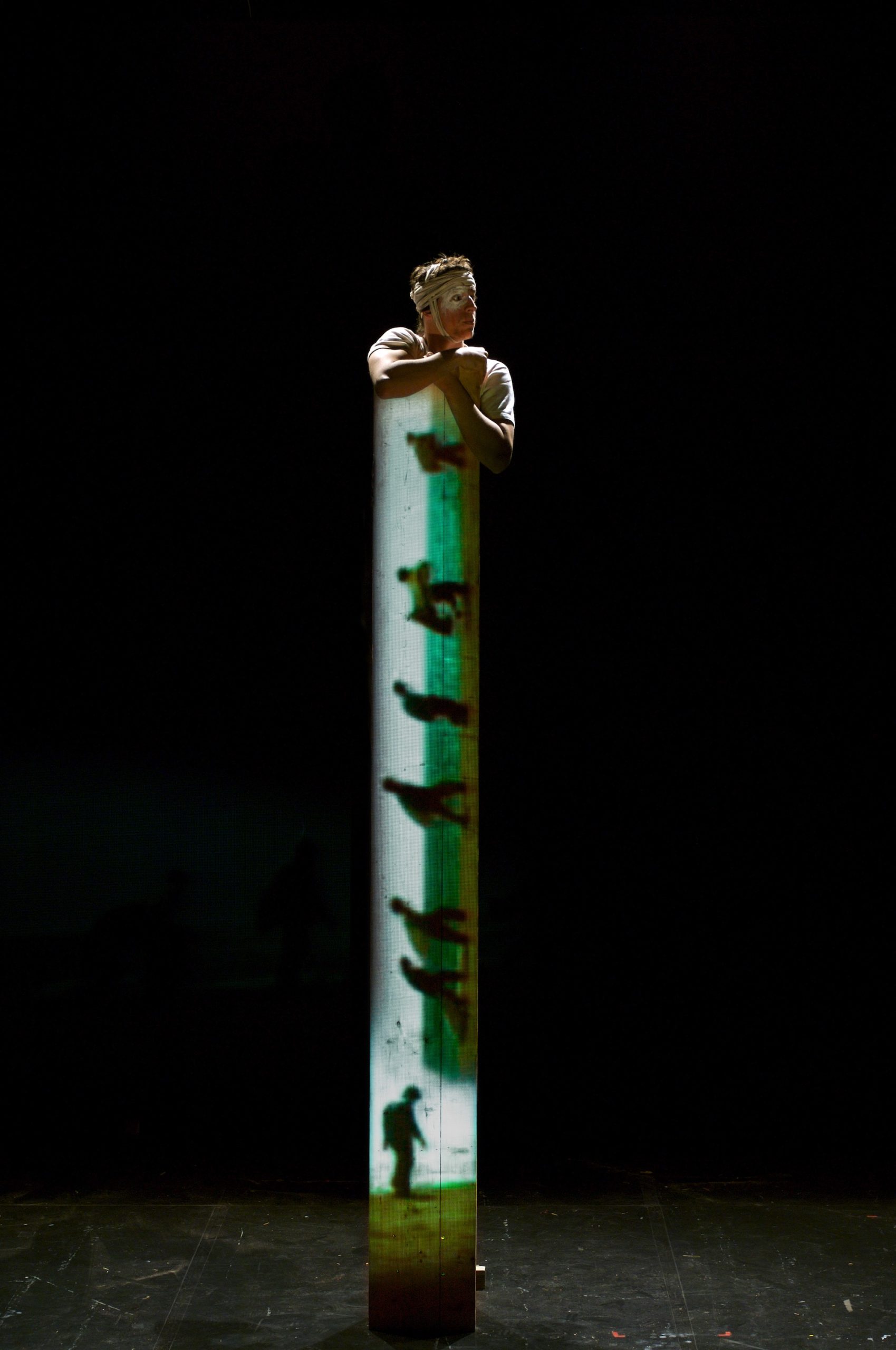 CASTING:
By and with Blaï Mateu Trias
Director: Michel Cerda
Video Direction: Florent Tillon
Set design and costumes: Marion Legrand
Lighting design: Adèle Grépinet
Sound design: Vivien Sabot
Technical management: Marc Boudier
Production manager: Armelle Vernier
Photos: Alexandra Fleurantin / Jean-Alexandre Lahocsinszky / Anna Bosc / A. Fleurantin / A. Fleurantin/ J.A Lahocsinszky / A. Fleurantin
PRODUCTION: Baro d'evel
COPRODUCTIONS: La Verrerie d'Alès en Cévennes / Pôle cirque region Languedoc Roussillon associated with ATP de l'Aude, La Grande Ourse Villeneuve-les-Maguelone, Théâtre de Clermont l'Hérault, Scènes croisées de Lozère, Conseil général des Pyrénées-Orientales, Pronomade(s) en Haute-Garonne Centre national des arts de la rue, Le Prato Théâtre international de quartier de Lille / Circulons ! Cross-border Cultural Relay Huesca – Tournefeuille, IMAC Reus (Spain), TAC Festival Valladolid (Spain).
REHEARSALS AND RESIDENCIES at L'Entre-Sort de Furies in Châlons-en-Champagne, L'Espace Périphérique La Villette/ Ville de Paris, La Ferme du Buisson in Marne-la-Vallée, l'Espace Marcel Carné in Saint-Michel-sur-Orge, l'Espace culturel des Corbières in Ferrals, le Théâtre Na Loba in Pennautier, La Grainerie in Balma.
SUPPORT from the Midi-Pyrénées DRAC, Ministry of Culture and Communication, the Midi-Pyrénées Regional Council, the Haute-Garonne General Council and the Mediterranean Pyrenees Euroregion.